Earth Day Art Challenge
---
Create a work of art inspired by themes related to pollination such as interdependency, rebirth, or cycles of life.
We are inspired by the impact of Georgia's pollinators on the sustainability of our food systems. We invite you to submit artworks similarly inspired by themes related to pollination.
---
2022 UGA Earth Day Art Challenge Exhibit!
Jury Award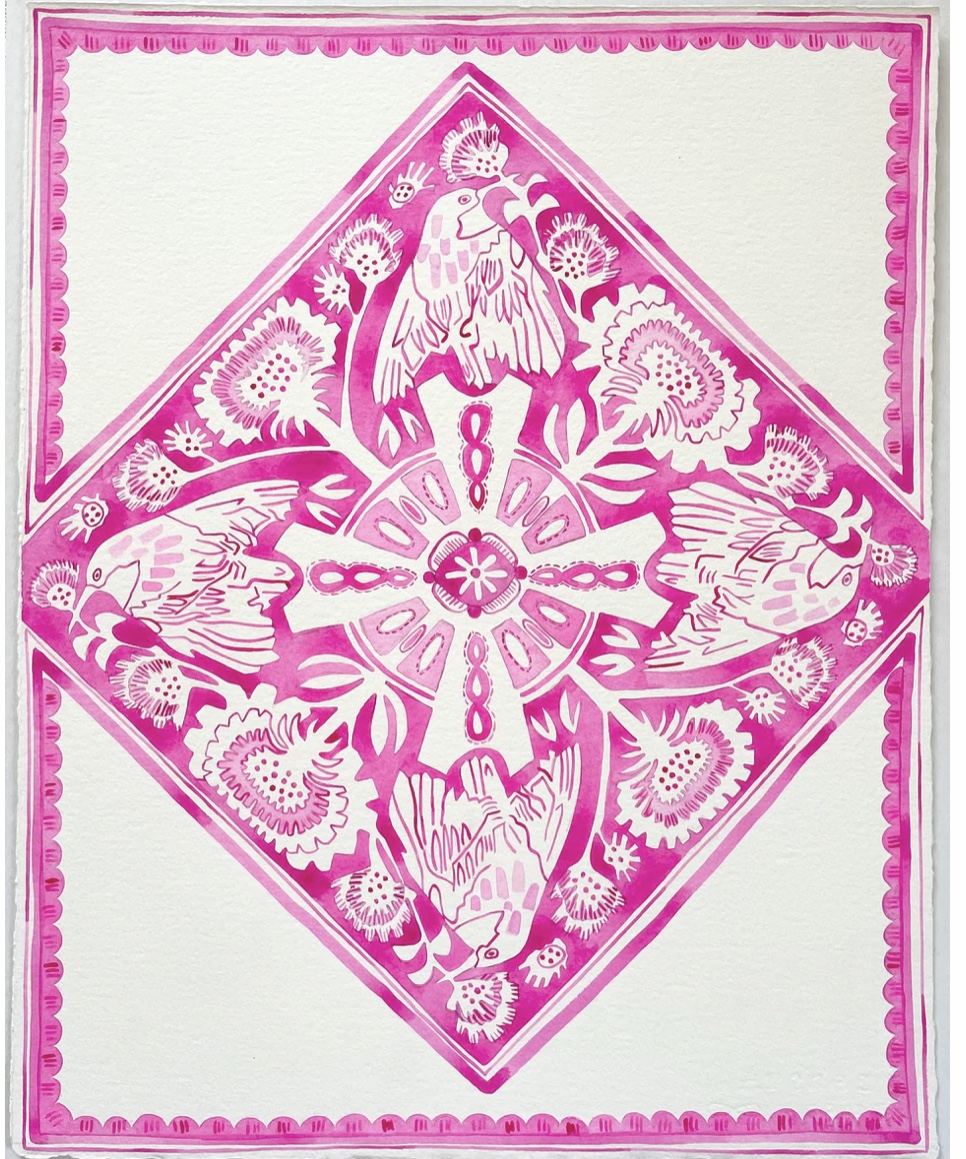 The action of Taking Flight challenges and encourages rebirth. It takes repeated bravery to change or try something new. This action is the first part of a cyclical process - one can't always be in flight. The take off requires courage and then there is a settling in to the newness, the unknown of flight. The act of landing results in an earned confidence, which shouldn't be taken for granted! Adapting, changing and being is both terrifying and beautiful.
---
Jury Award
When I come upon you
waiting in the garden, iris
eyed and berry mouthed,
laureled in ringlets
to your shoulders, regal
as you juice a lemon for tea
and butter scones, lift
the cream and tang to my lips
to taste the afternoon, oh,
what sweetness to kiss you
a hundred times anew, fair
maiden of the Eden Valley!
The hive of me wings
afield to where you reign
in clover and dandelion, bouquet
I kneel to sip, nectar
I bow to lick, comb
that flows to turn me solid
gold. I drink you
crystalline, oaked
sugar prism, ever-
green super-
saturate, humming
bird lavender snap-
dragon of rosemary
bush I tend, I pluck,
I crush to pour you
out, oh hover, oh bumble, oh wax
lyrical, Beatrix, beautiful queen
bee, honeysuckle dew-
drop of wild indigo
bloom and buzz
and crenulate,
cherry and apricot,
fig and pomegranate
and apple, the fruits
of love known to us
and us alone.
An ode to the harmony of a fruitful garden.
Jury Award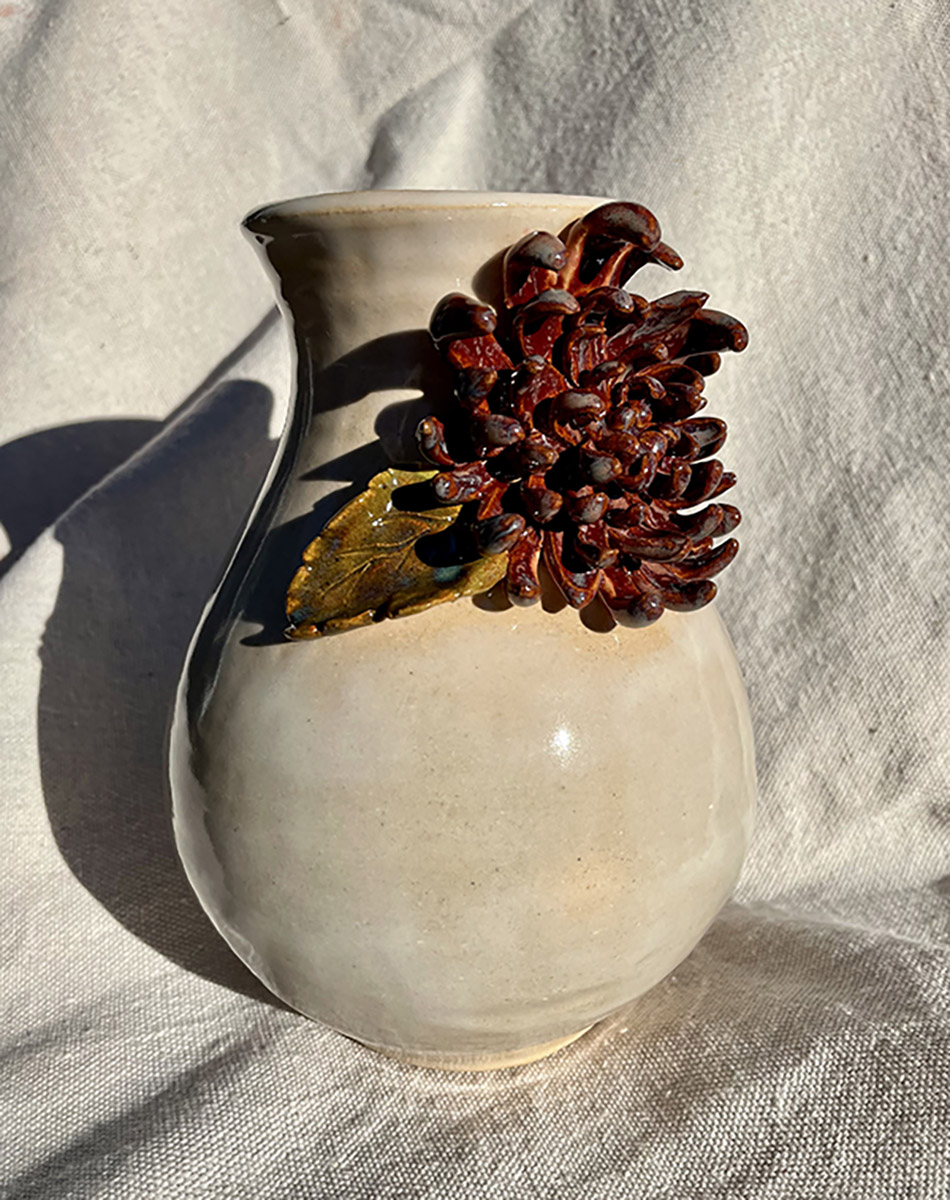 Chrysanthemum Asteraceae
Ceramic Vase
In many cultures, the chrysanthemum is a symbol of life and rebirth. Though often considered to be an annual bloom, with a little care, these beautiful blossoms can be reborn year after year. The intricate and delicate layers of petals that seem to endlessly unfurl from its center echo the patterns of new life in the natural world.
---
Honorable Mention
---
---
Tattered wings
Against the dawn breezes
On the emerald waves
Up and down I fall close to
Salt water blinking sunlight

I'm only the leg of the
Journey
The Quest to go home
My grandchildren will be the ones to see
Crisp boreal forests

I am only the beginning
Of a story
Woven together with flowers
And tattered generations of wings
Pushing against the gulf
Sun and Time
---
---
Special Thanks to the 2022 Art Challenge Jurors
---
Award - Action

Caroline Solomon
Plastic Bag Shorts and Jacket
Apparel made from mixed waste materials
I made this outfit out of paper and plastic grocery bags, packaging material, and scraps of fabric ... I want to prove that something considered "single-use" can be transformed into something reusable, wearable, and beautiful.
Award - Appreciation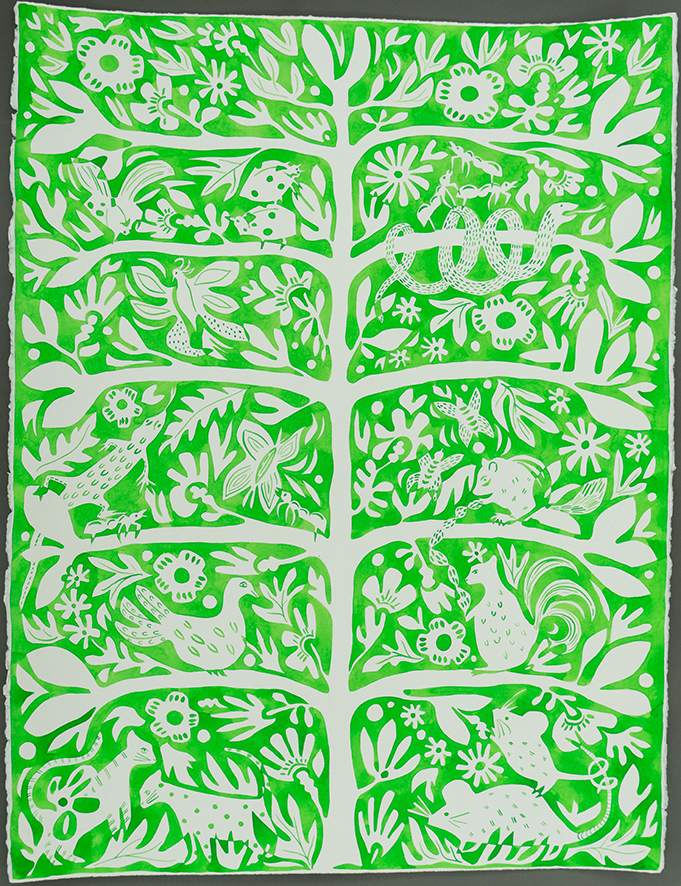 Tree of Life #6
Watercolor
I hope this piece exudes joy and encourages an appreciation for nature and all of its wonderful flora and fauna. The playful interaction of the creatures were intentional. Life celebrated. Life unified. Life harmonious.
Award - Awareness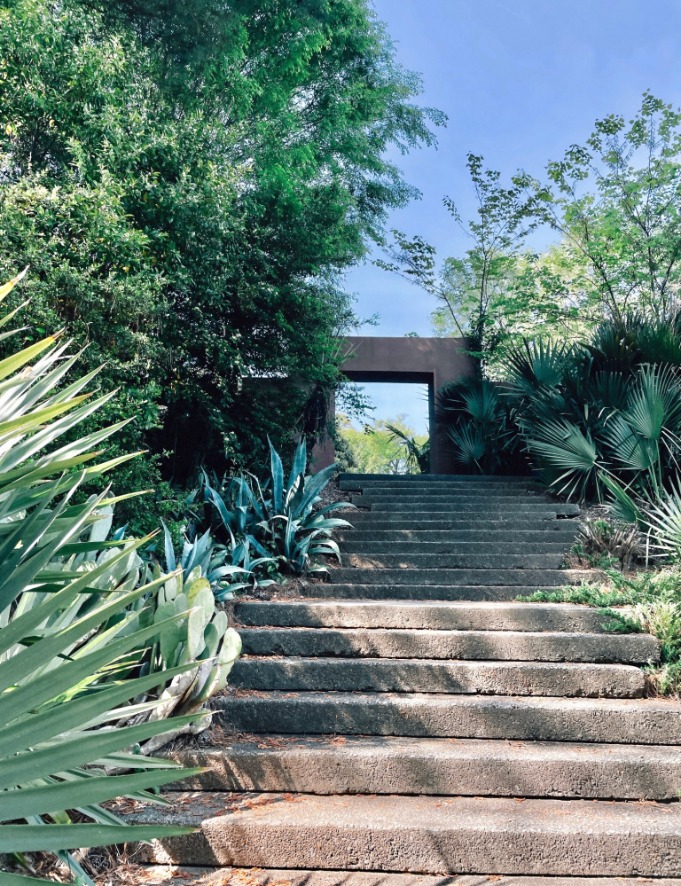 Niki Gajjar
Photo and sound recordings
This project is a dedication to the soundscapes that surround us and the connections they represent. Through the soundscapes I've recorded and documented, we can see the interconnectedness we hold with the natural world - from the birds, the bugs, to the trees blowing in the wind.
---
All Submissions
Natalia Blooming
North Carolina I.
The wind sighs with the feeling of excitement then release.
Woodland trails
Where the sun catches the mist in a noncommittal sort of way,
Oh, I'll do that again if I feel like it
And the breeze twists my hair
In an innocent sort of way.
These trees know themselves
And patiently
Restrain themselves
As we take in their scents
And become aroused,
New, virgin to the smell
Of light and decay.
I feel nauseated:
The feeling of being churned as we succumb to the curls of the parkway.
I might as well be in a washing machine.
And my feet smell river rank,
And I can't help but forget
All the horrible things
And focus
On the Wonderful things.
I will take in the waterfalls and swallow the sky.
Sometimes I'll go outside and wonder
if the trees have anything to say,
anything to teach me.
I ponder if they have a message to share with humanity.
Yesterday, from the shuffle of the leaves I felt the trees say:

Why do you think you could own me?
Do I have to become a commodity
to be recognized for the value I behold?
You think to be wise, but spend time under my shade and
I'll show you my ways.
I'll teach you of the seasons.
Look how I don't hurry.
Notice how my leaves surrender to winter, to rest.
Watch how I don't get anxious when I'm unproductive.
I just rest in my own beauty,
in my own body.
Lara Strydom
Will you forget?
I was almost convinced
That you had forgotten me

When they hammered their machines into my pores
And drilled and drilled
Until I choked up that greasy old oil
As it infused itself into my teary eyes
Soaking my precious friends in that fatal tar

I thought you had forgotten me

When they decorated me with candy wrappers and empty cups
Suffocating my heart in their plastic wrap
And humiliating the body
That cradled you from day one
Full Text (PDF)
Unless someone decides they care
enough to spare a bit of spare
change for the better,
get their toes a bit wetter,
see if they can break the tension
that was so ice cold it froze
the water that was trying to flow
through your voice that, solo,
couldn't get through the thick
tension in the air and quick-
ly evaporated, dissipated
like the water that once quenched desert oases
like the colorful skies that only the day sees
like the toxins that may seize
even more of our children right before our unseeing eyes
Full Text (PDF)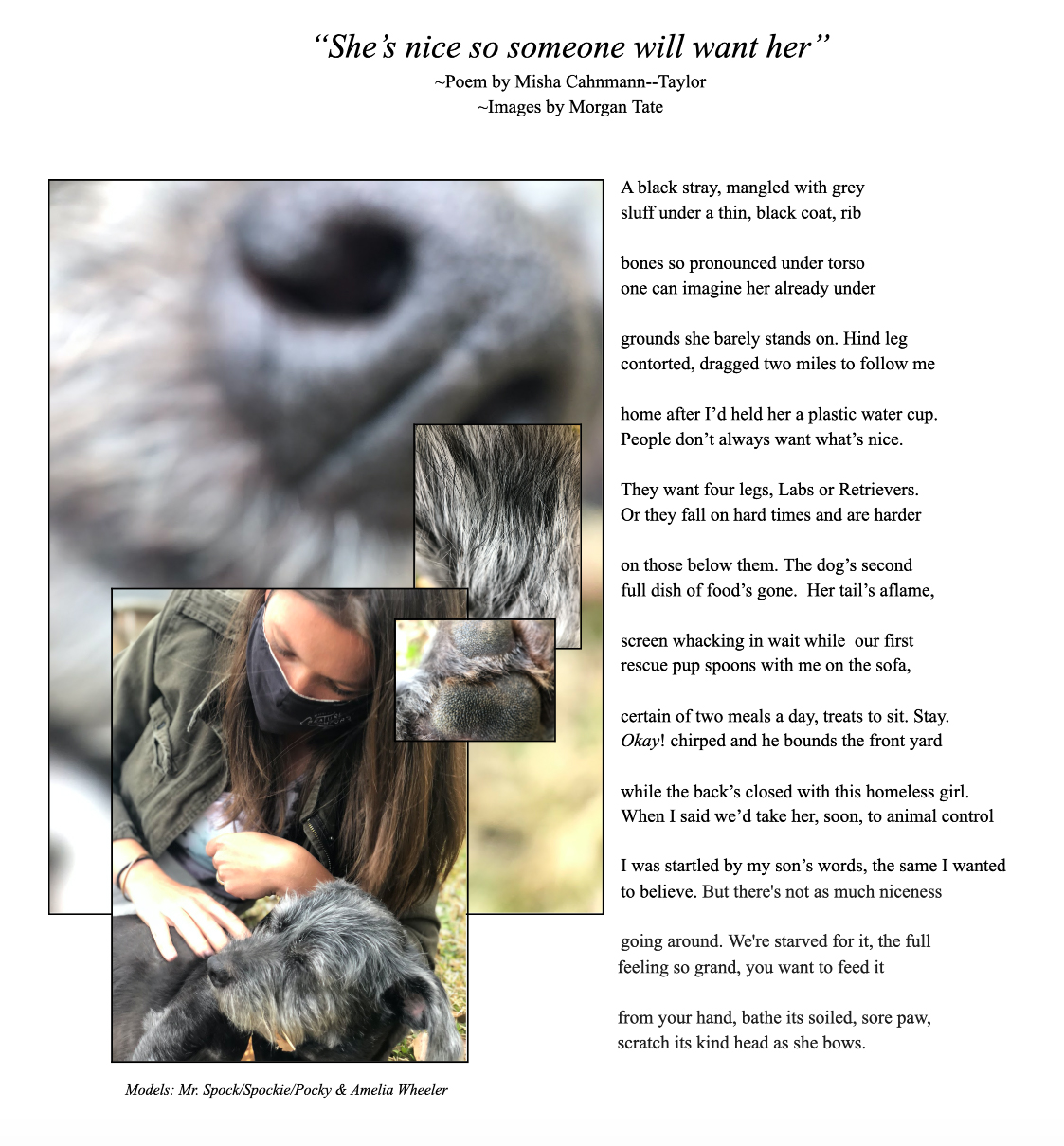 Morgan Tate and Melisa (Misha) Cahnmann-Taylor
She's nice so someone will want her
Photography and poetry
We are treading water in finite space
Passing along a life vest that may never actually be worn
The world is waking, and not slowly
There is no forsaking our own little parts, only our old ways
We are called to come together
Tragedy and weather are unpredictable and on the up
The rising waters will wash out whatever is in your eye
Why should we even care?
Why should this be our cross to bear?
We are facing the single biggest threat to our existence.
We've known for some time that the global temperature is on a steep incline
and if we continue in the way we are
We won't survive.
Full Text (PDF)
Sofie Williams
I am everything that lives
I am every tree that lines the streets

I am the river that runs across town

I am the flower in the gardens

I am the fields and their many cows

I am every goose, every duck, Every bulldog

I am the sunset and sunrise and stars overhead

I am the lake that ripples

I am the lake that is still

I am every forest oath

I am every trail I tread

I am one with all I see

I am everything that lives.