Partnership for a Sustainable Athens
---
Community-driven experiential learning
The Partnership for a Sustainable Athens, a collaboration with the UGA Office of Experiential Learning and the Interdisciplinary Certificate in Sustainability, provides meaningful learning opportunities for students and valuable support for campus and community partners working to advance sustainability and resilience in the Athens area. Partners may include any UGA department or Athens-area non-profit organization, government agency, or local business working toward goals outlined by Envision Athens and/or UGA's Strategic Plan.
Internships
Internships provide campus and community partners with motivated students who bring enthusiasm, new perspectives, and disciplinary knowledge to their work. Students gain valuable professional development and applied learning. Interns work 10 hours per week, including one hour at the UGA Office of Sustainability for leadership training, networking, and project support.
(Note: we are not currently accepting proposals for internship positions. If feasible to meet your need, please consider a project request.)
Projects
Projects are typically completed by interdisciplinary student teams through the Certificate in Sustainability Capstone Course and are conducted during fall and spring semesters. Projects help clients address pressing sustainability challenges while providing students with an opportunity to apply their academic learning and develop valuable skills.
Interested in Becoming a Partner?
Governmental, non-governmental, non-profit, industrial, for-profit, and university-affiliated organizations are all welcome to propose projects.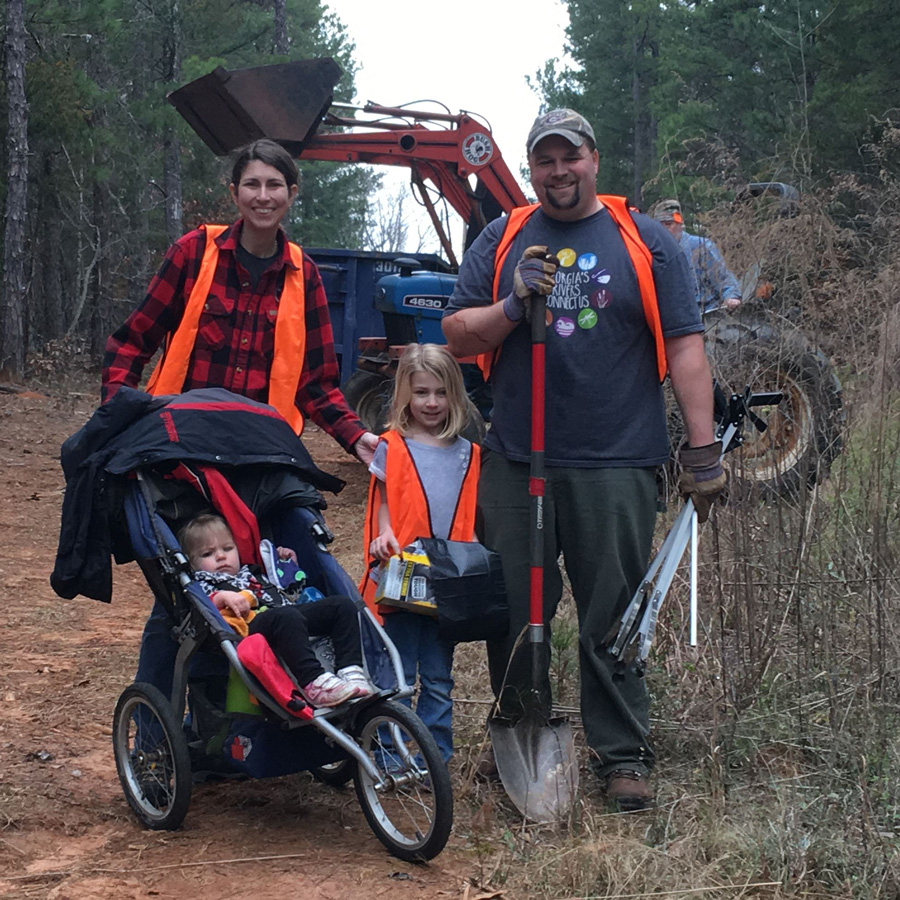 "I've had the pleasure of hosting a number of interns from the Office of Sustainability through their Partnership for a Sustainable Athens program and have been really pleased by the thoughtful nature of the interns and the quality of work I've received.

I love that the interns work on projects identified by the community rather than working from an assumption that they know what I need better than I do."
Program Details
Internships
Intern projects should engage students in meaningful hands-on work that addresses a sustainability challenge and is scaled appropriately for a student working 9 hours per week for one or two semesters. Internships that are administrative or sales-focused are not appropriate for this opportunity.
Partner provides 50% of the student intern salary through a lump sum payment each semester. Partner will receive an invoice from the Office of Sustainability at the start of the semester. Payment is due by March 1 for spring semester interns and October 1 for fall semester interns. 50% salary is typically $787.50 per semester for an undergraduate intern; $1,012.50 for a graduate student intern.
Partners participate in the intern selection process and provide a mentor, timely feedback, work space, and other resources as needed to ensure success.
Administer and support all aspects of the Partnership for a Sustainable Athens.
Advertise open positions, coordinate interviews, and facilitate the selection process.
Coordinate on-boarding and payroll.
Provide templates and review intern work plans, mid-semester and final evaluations.
Facilitate weekly meetings, review student work, and organize the Semester in Review showcase.
Internships are for one semester with the potential to expand to additional semesters.
Internships follow UGA's academic calendar, generally August-December during fall semester and January-May during spring semester.
Students present their work at the end of each semester as part of the Sustainable UGA Semester in Review event from 11-1pm on Reading Day.
Projects
Capstone teams are typically made up of 3-5 students from over 70 majors overseen by a faculty mentor to ensure quality and provide expertise. The best projects are solutions oriented and present a feasible scope of work. In order to host a Capstone team, organizations must:

Have a specific project that addresses a defined sustainability challenge that can be accomplished by a small team of students in 3.5 months.
Have organizational capacity to sustain support for the capstone project (including staff time and expertise to mentor the capstone team).

Prospective Partners submit a project request form to the UGA Office of Sustainability. Projects must address a significant sustainability challenge with a feasible scope to be completed in one or two semesters. Community Partner must provide a mentor, funding, work space, or other resources as needed.
Provide a structure to match campus and community partners with appropriate UGA resources to help address identified needs.
Coordinate with Sustainability Certificate leadership to vet projects and advertise requests to Capstone students.
Communicate with Community Partners regarding potential opportunities for support.
Office of Sustainability solicits project requests each semester for the following semester.
Projects may be completed during fall or spring semesters.
Community Partners can submit requests on a rolling basis. To be incorporated into Capstone or other coursework, Campus and Community Partners should request Fall semester projects by January and Spring semester projects by August.