Sustainable UGA Awards
---
Peer-nominated sustainability champions
Sustainable UGA Award winners strive to ensure that all people can thrive, both now and in the future, going above and beyond to create a more inclusive, equitable, and sustainable community. With so many actively engaged students, faculty, and staff worthy of commendation, it is significant that Sustainable UGA Award winners are recognized by their peers as having made meaningful contributions to advance sustainability at UGA and in the local community.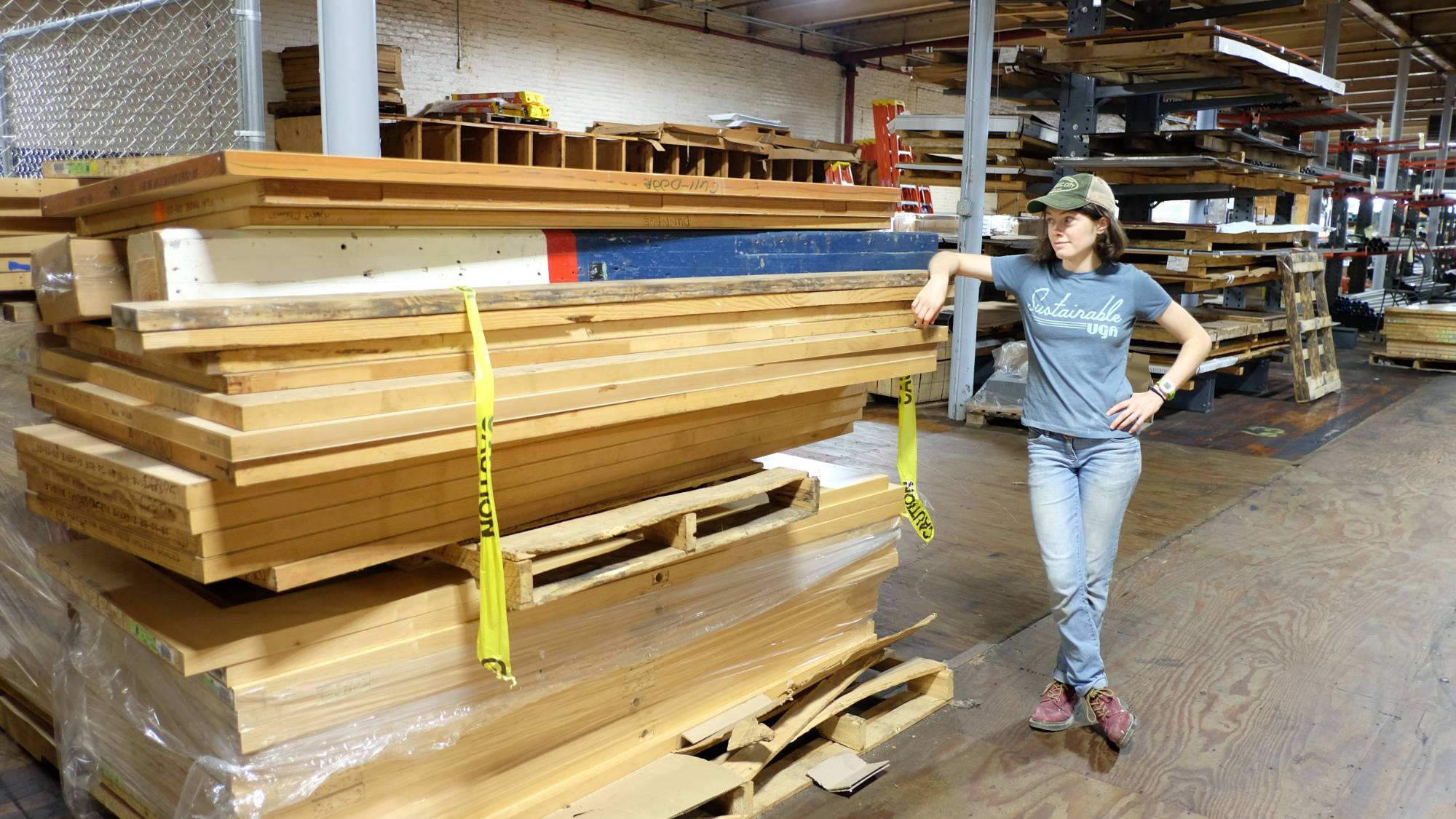 Nominate Someone for a Sustainable UGA Award
Use this form to nominate an outstanding student, faculty member, or staff member who should be recognized for their excellence in sustainability.
2023
2022
2019
2018
2017
An environmental engineering major from Atlanta, Melissa has always had a love and passion for sustainability. She has served as an intern in the Office of Sustainability for 2 1/2 years—and she read Dr. Seuss' The Lorax so many times as a child that she still has it memorized. According to one nominator, "Melissa is an extremely dedicated advocate for sustainability around campus. Her willingness to assist others with their own sustainability efforts is unparalleled. She recycles and composts at home—and encourages friends, family, and strangers to do the same. I look forward to seeing what she'll do next!"
Michael is a Professor of Art, and Associate Director of Curriculum, in the Lamar Dodd School of Art. He is on the advisory board for Watershed UGA and an active collaborator on multiple sustainability projects on campus. One nominator said "Michael is instrumental in combining the arts and sustainability at UGA. He reminds us that the arts are not only an effective tool for communicating and visualizing complex issues, but also integral to creative problem solving and enhancing culture to addresses grand challenges."
Wick is the UGA Extension School Garden Coordinator. His program seeks to end poverty and teach sustainable practices through experiential learning. Wick served as a VISTA at Clarke Middle School for two years—installing a large produce garden, supporting teachers, and establishing a summer camp where students care for school livestock, tend the school garden, and plan, prepare and serve pop-up lunches to the community. According to one nominator, "Wick is an inspiration! His program is changing lives and empowering young students. His genuine caring and natural manner of engaging with others makes him an excellent mentor and friend to those he serves."
2016
The 2016 Sustainable UGA Outstanding Student Award was given to Kirstie Hostetter, a senior environmental economics major from Memphis, Tennessee. Kirstie is co-founder of the UGA Energy Concept, a student organization dedicated to interdisciplinary energy innovation that transcend political viewpoints, and president of the Lunchbox Garden, an after school program engaging children in issues concerning healthy, sustainable food choices.
According to one nominator, "Kirstie is incredibly passionate about sustainability, and works hard to enable her peers to be part of the discussion of our future. I, and many others, have learned so much from Kirstie about what it means to be a caring steward of our planet."
The 2016 Sustainable UGA Outstanding Faculty Award was given to Dr. Cecilia Herles, assistant director of the Institute for Women's Studies and recipient of UGA's 2016 Creative Teaching Award. Dr. Herles is an active member of the Sustainability Across Curriculum initiative and her service-learning course led to the establishment of Campus Kitchen at UGA, a student-powered food recovery and distribution program which has provided over 50,000 meals to community members in the Grandparents Raising Grandchildren program.
"Cecilia inspires her students and peers to creatively engage in their communities," said one nominator. "She is a shining example that through meaningful dialogue and thoughtful actions we all can have a role in lifting up others."
The 2016 Sustainable UGA Outstanding Staff Award was given to Bryan Varin, interim executive director of UGA Food Services. UGA Food Services typically serves over 95,000 meals a week in support of the learning environment at UGA. With a farm-to-table background, Mr. Varin combines a passion for delicious, nutritious and sustainable foods with a commitment to providing exceptional and economically viable food offerings to the University community. UGA Food Services composts all organic materials from all dining halls, and the shift to trayless dining in 2015 leads to annual savings of 150,000 gallons of water and $2 Million in food waste.
According to his nominator, "Bryan's commitment to sustainability permeates his staff and their massive daily operations. While change can be slow in a large institution, Bryan remains open and forward-thinking toward innovative solutions that nourish both people and the planet."
2015
2014
2013
2012
2011
UGA Honors Student majoring in Ecology and Biology with an emphasis on sustainable design, and president of Students for Environmental Action. From developing feasible recommendations for renewable energy and alternative transportation at UGA to spearheading Earth Week 2011 events on campus, Sheena is already a proven leader toward a more sustainable future. One nominator referred to Sheena as "a shining example of why we should be hopeful for the future."
Assistant Dean in the Odum School of Ecology. From developing a multi-disciplined environmental practicum course that has been lauded by multiple state-level agencies for its effectiveness in ecological preservation to initiating the Odum School of Ecology Sustainability Committee and spearheading sustainable living practices among students, faculty and staff in her department, one nominator stated, "Laurie is sustainability at its best!"
Research engineer in UGA's Engineering Outreach Services in the College of Agricultural and Environmental Sciences. Jason is acknowledged specifically for his efforts to conserve energy and save the University money through targeted education and research in campus buildings, as well as his tireless efforts to provide bicycles to underserved members of our community through the BikeAthens Bike Recycling Program. In addition, one nominator stated, "He's also just a heckuva nice guy."