Internships
---
Experiential learning through real-world solutions
The Office of Sustainability Student Internship Program provides opportunities for experiential learning and professional development while making a positive and tangible impact within the University of Georgia and Athens communities. The Office of Sustainability partners with campus and community organizations to identify real-world challenges and develop sustainable solutions. Leadership training is enhanced through a collaboration with J.W. Fanning Institute for Leadership Development.
Are you a student who would like to apply for a sustainability internship position?
The Office of Sustainability is committed to cultivating an inclusive, diverse and respectful workplace. All current students are welcome and encouraged to apply. Open positions for Fall 2022 are listed below. Applications are due on April 8th.
Open Internship Positions for Fall 2022
ACC Sustainable Energy and Transportation Intern
This intern position will assist with all aspects of the Sustainability Office's energy and transportation initiative, including assisting with the development and implementation of the Units energy management strategies and conservation program and policies associated with energy systems, energy use, and energy conservation within the community; researching energy and emerging technologies; assisting with the development of educational and training materials; assisting with the promotion of energy and transportation conservation initiatives; and researching and maintaining energy and transportation related databases; and writing educational and promotional materials for distribution.
Artist in Residence
The Office of Sustainability Artist in Residence (AiR) is a non-traditional position designed to infuse creativity into on-going OoS programs and activities, promote collaboration between artists and other disciplines, engage the campus community in new ways, and give artists an opportunity to explore ideas and develop work related to sustainability. The AiR will spend up to 10 hours each week at the Office of Sustainability in the Chicopee Building, where they will embed in circular materials initiatives and develop at least one creative project that engages the campus and/or community (such as workshops, exhibitions, performance, intervention, etc.). The AiR receives support and resources from the OoS, with guidance from the Social Ecology Lab and Ideas for Creative Exploration. All arts disciplines are encouraged to apply. This internship will last both Fall and Spring semesters.
Athens Farmers Market Children's Booth Coordinator
The Athens Farmers Market provides a weekly, free activity for all those young at heart who attend our markets. These fun and enriching activities engage attendees in local food, environmental action, creativity, and community building. The responsibilities of the Children's Booth Coordinator is first to ensure there is a Children's Booth activity each week by a) coordinating with community businesses and organizations who will provide an activity, or b) providing an activity themselves. Additional responsibilities include attending Saturday markets to support activities, to assist in planning AFM special events as availability allows, and to help coordinate food system-related interns in the Office of Sustainability. The Children's Booth Coordinator will be representing AFM to the community and is expected to be respectful and kind during professional interactions.
Campus Arboretum Intern
This intern will work directly with the UGA Grounds Department and Campus Arboretum Committee to provide technical and creative support for the University of Georgia Campus Arboretum. Candidate must be motivated and self-reliant. Candidate should have a solid foundation in the identification of tree species (native and non-native) common to the Athens vicinity and possess a basic knowledge of Geographic Information Systems. Approximately 1/3 of the intern's time will be spent observing and recording trees on campus, 2/3 time will be spent expanding the Campus Arboretum website.
Campus Compost Intern
Intern will co-lead the tricycle-powered UGA Campus Compost Program including physical collection of compost bins from 80+ campus locations, communication with current and prospective program participants, and general promotion of composting at UGA. Candidates must have a passion for composting and engaging with others, be a safe and confident bicyclist, have a valid driver's license, enjoy working behind the scenes and getting your hands dirty (and smelly), be willing to work outdoors in less than ideal weather conditions, and able to lift up to 50 lbs.
Campus Kitchen Communications Intern
The Campus Kitchen Communications Intern is responsible for communicating important food recovery and distribution events, projects and operations both internally to the CK team and to the wider Athens community. This intern will maintain our email platform, social media pages, and physical forms like flyers, as well as attend student involvement events. The CK Communications Intern will serve as an integral part of Campus Kitchen's leadership team, attending weekly leadership meetings, working on group projects, and jumping in with day-to-day operations as necessary.
Electric Vehicle Planning Intern
This position will report to the Facilities Management Division Fleet Manager. Intern will research costs, incentives, and best practices for campus fleet electrification, charging infrastructure, and ongoing operations and maintenance of electric vehicles. Intern will help to assess the current FMD fleet, identify potentially feasible electric vehicle alternatives, and plan the implementation of an EV pilot for Facilities Management Division. Candidates should be organized and detail-oriented with effective written and verbal communication skills and an interest in sustainable fleet management.
Farm to Campus Intern
The Farm to Campus Intern is responsible for planning, coordinating, and implementing weekly Farm to Campus Markets. The intern must be available on Wednesdays from 8AM-4PM, and must have a vehicle and valid driver's license to transport produce and supplies. Candidates should be self-motivated, creative, collaborative, and highly organized with excellent communication skills. Past experience volunteering with Farm to Campus Markets and participation in Farmers Market Friends student organization is preferred.
Fresh Express Market Intern
This position will serve as the primary coordinator for the Fresh Express Market, a sister organization to the Professional Clothing Closet. Responsibilities include developing partnerships, coordinating volunteers, acquiring and distributing fresh produce, tracking funding and other program metrics, and engaging positively with customers. This position also includes routine interaction and meetings with Student Government Association. Candidates should be highly organized, collaborative, respectful of others, exhibit excellent communication skills and a passion for addressing nutrition insecurity. Past experience volunteering with Fresh Express Market is preferred.
Greek Life Intern
Are you a member of a Greek organization on campus? Do you want to see the Greek community expand its leadership role in sustainability, equity, and inclusion? The Greek Life intern coordinates the Greek Goes Green program and serves as a liaison between individual chapters, Greek Life, Athens Clarke County Recycling Division, and the UGA Office of Sustainability. This position includes educating and empowering fraternity/sorority sustainability coordinators, advancing equitable sustainability initiatives among diverse Greek chapters, and ensuring compliance with UGA and ACC waste reduction strategies. Experience in event planning and social media management is beneficial to this role but is not a requirement. Candidates should be self-motivated with a passion for sustainability, strong communication and organizational skills, and an ability to effectively collaborate with and inspire others.
Green Cleaning Supply Chain Intern
This position will report to members of the Facilities Management Division Services team to identify and develop an automated system for documenting and tracking green cleaning supplies through sourcing, storage, distribution, and use in campus buildings. Intern will gain in-depth insight into facilities operations while developing systems that enhance data collection, streamline workflows, and reduce costs. Candidates should be inquisitive, self-motivated, highly organized, proficient with spreadsheets, and interested in supply chain and business processes.
Green Labs Program Intern
This position will create graphic content, update the UGA Green Labswebsite, and support the continued development of communication and outreach strategies for the UGA Green Labs program (GLP) within UGA Facilities Management Division. The GLP is committed to making UGA's research spaces more sustainable and more equitable through a variety of initiatives. This position will report directly to the Green Labs Program Coordinator. Candidates should have graphic design experience/expertise and/or experience in website management with a general understanding of the OmniUpdate software platform, as well as an interest in sustainable laboratory practices.
Green Roof and Pollinator Project Intern
This position will be responsible for supporting the Campus Pollinator Project and maintaining green roofs on campus, such as at the School of Pharmacy, Business Learning Community, and/or others. Intern will provide support for UGA's Bee Campus USA certification and Campus Pollinator Committee, including collaborating with project partners, assessing and mapping habitat, assisting with planting plans, coordinating class participation and volunteer events to enhance pollinator habitat, and creating educational materials. Hands-on green roof maintenance tasks may include weeding, watering, and planting. Intern may also develop plans to revitalize existing underperforming green roofs. Candidates should exhibit a positive attitude, excellent customer service, and a willingness to work outdoors, including in adverse weather conditions. Safety training and use of proper personal protective equipment will be required. Experience in horticulture, landscape design and maintenance, and rudimentary knowledge of pollinator species/plants is preferred.
Strategic Communications Intern
The Strategic Communications Intern will work collaboratively to develop informative and engaging media strategies to highlight student, faculty, and staff-led sustainability initiatives at UGA. Strategies will include development of annual reports, social media, and/or newsletters. Candidates should be collaborative, willing to engage with a broad range of sustainability topics and organizations,and possess excellent visual, verbal, and written communication skills with a passion for inspiring sustainable actions.
Sustainability Certificate Intern
The intern will support the Sustainability Certificate by coordinating events, communicating with students and faculty, representing the certificate (presentations and tabling), updating the certificate website, developing certificate materials, and working with our alumni network and ambassadors.
Sustainability Metrics and GIS Intern
Intern will help to create and compile sustainability metrics, track sustainable change, and communicate stories and strategies using geospatial databases, ArcGIS online, and ESRI tools such as Story Maps, Fields Maps, and Survey 123. This position plays a leadership support role to other intern projects and the UGA Living Lab. Projects will span multiple sustainability program areas and may include: recycling, compost and waste reduction systems, food systems and farming, campus landscape projects (arboretum, campus pollinator project), ecological restoration / resilient systems, electric fleet management, sustainable transportation, and energy and greenhouse gas inventories. Candidates are encouraged to have basic knowledge or experience in one or more of the following skills: Geographic Information Systems, data analysis, data visualization / dashboards, and data storytelling.
UGArden Compost Intern
This intern will report to UGArden and manage the farm composting system. They will work with a Master Gardener to manage the piles, grind, and turn them with a tractor, and record the temperature for our compost records. Experience operating equipment not required. However, this intern will be expected to operate the tractor and should be prepared and willing to do so. Intern may be asked to assist with other UGArdentasks on the farm. Transportation to UGArden is necessary.
UGA Living Lab Intern
This position will be responsible for coordinating and advancing the UGA Living Lab program which is designed to engage faculty, staff, and students in developing sustainable solutions to pressing challenges. Intern will assist with relationship building among UGA staff and faculty, planning and coordinating engagement events, identifying useful data streams, documenting current needs and challenges to be addressed, updating program website and forms, highlighting past projects, and reporting key program metrics. Candidates should be organized, collaborative, confident in public speaking and engaging diverse audiences, comfortable with minor website maintenance, and interested in facilitating hands-on experiential learning to achieve sustainable solutions.
University Health Center Sustainability Intern
This position will report directly to staff in the University Health Center. Intern will lead zero waste and other initiatives within the University Health Center, including developing and implementing clear and convenient systems for UHC staff to divert hard to recycle materials. Candidates must exhibit excellent written and verbal communication skills, a passion for reducing waste and engaging with others, an ability to plan and coordinate complicated logistical tasks, and be willing to work hard behind the scenes.
UNRCE Intern (Regional Center of Expertise on Education for Sustainable Development)
The UNRCE Greater Atlanta is a United Nations-affiliated regional sustainability education network that brings together universities and colleges from across the Greater Atlanta region with nonprofit, community, government, and business partners to advance the U.N. Sustainable Development Goals through education and training. This intern position will collaborate with UNRCE interns at other campuses including GA Tech, Emory, and Spellman. Tasks will include home institution student engagement, communications, network weaving, and participation on a UNRC Action Group.
Zero Waste Intern
Intern will lead Zero Waste and reuse initiatives such as the Swap Shop at UGA, reconditioned water bottle program, and deskside waste reduction program. Additional tasks may include assess campus waste reduction infrastructure, install recycling signage, develop zero waste campaigns, conduct waste audits of campus buildings, and/or other waste reduction efforts. Intern will work closely with multiple people and departments to carry out projects. Candidates must have a valid driver's license, a passion for reducing waste and engaging with others, an ability to plan and coordinate complicated logistical tasks, and be willing to work hard behind the scenes.
---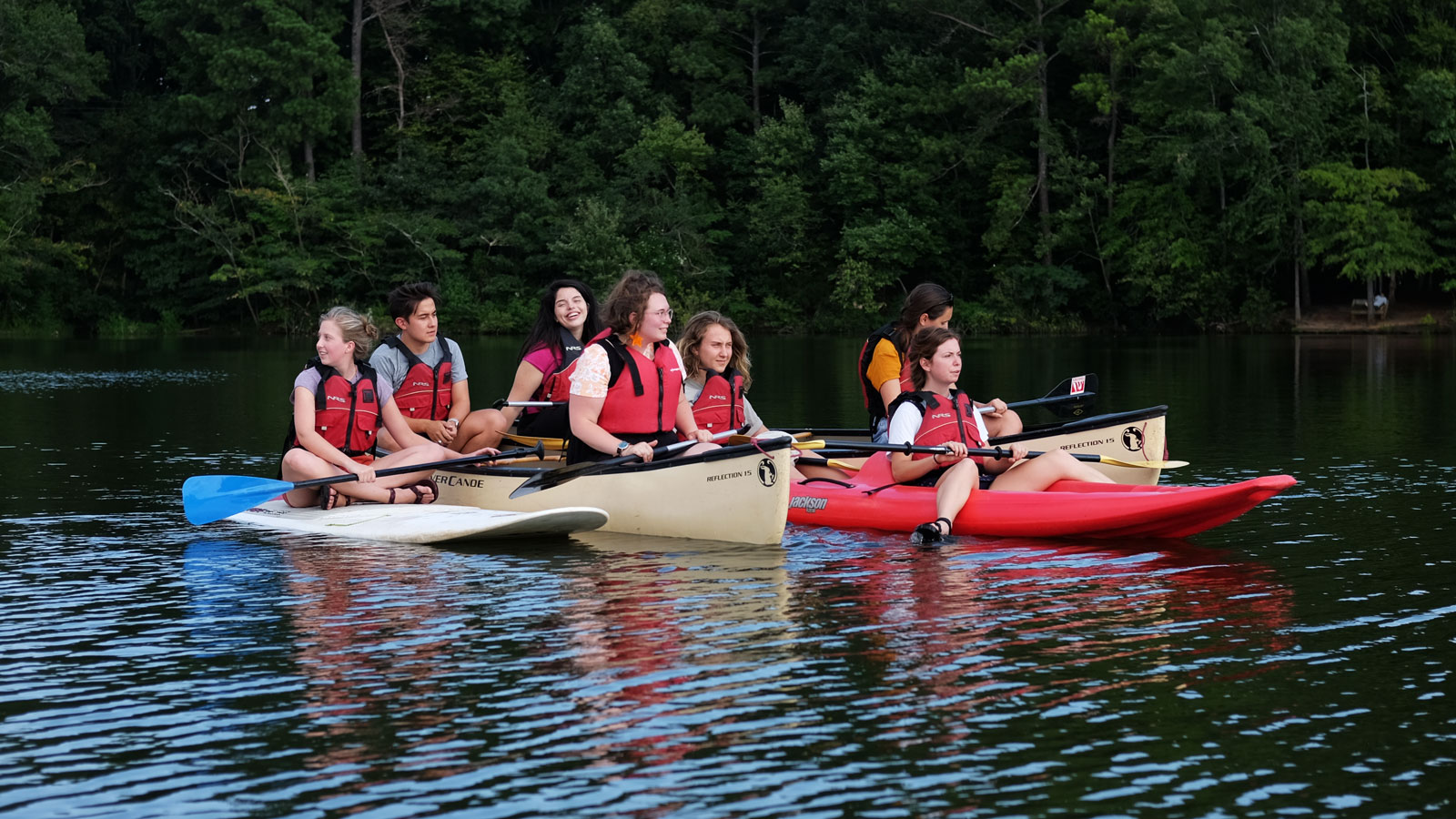 Are you a campus or community partner that could benefit from a dedicated student intern?
Our Partnership for a Sustainable Athens provides meaningful support for campus and community partners working toward justice, sustainability, and resilience in the Athens area. Partners identify strategic priorities to advance their core mission.
Current and past interns
A listing of current and past student interns can be found in the Interns Directory.
Internship Program Details
---