Energy
---
Conserving valuable resources
UGA reduced its energy use intensity per square foot by 22% between 2007 and 2020—exceeding the Georgia Energy Challenge of 15% and nearly reaching the 25% target set by the UGA 2020 Strategic Plan—through investments in the campus energy infrastructure, energy efficiency upgrades in campus buildings, and energy efficient design in new construction and renovations. Energy use in UGA facilities is responsible for an overwhelming majority of our overall greenhouse gas emissions, so energy conservation and renewable energy are critical components of UGA's Sustainability Plan.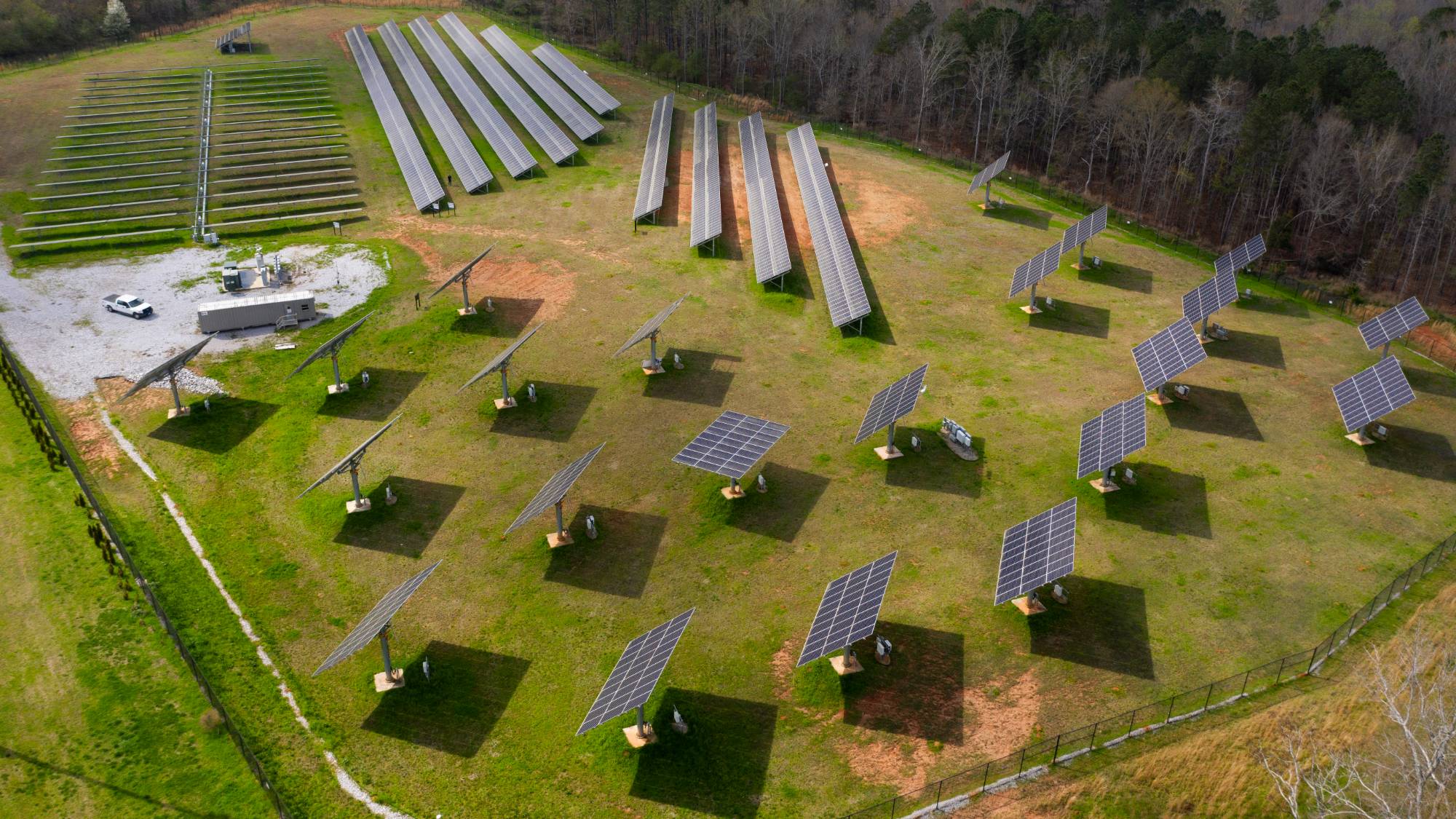 Energy Conservation Strategies for your Lab, office, and other facilities
These checklists are available for UGA employees to use to prepare work spaces and laboratories for energy conservation during periods of reduced operations and/or extreme weather conditions.
Campus Energy Systems
Electricity
Over 95% of the electricity used in statewide UGA facilities is consumed at the main Athens campus, which is served by a 100-megawatt substation connected to Georgia Power. The electrical distribution network that connects the main campus buildings to the substation is owned and maintained by UGA Facilities Management Division.
Steam
Most of the main Athens campus uses steam to heat buildings, generate hot water, and operate laboratory equipment. The Central Steam Plant is located near the intersection of Cedar Street and East Campus Road, and steam is distributed throughout campus in insulated underground pipes. The steam plant runs primarily on natural gas but can switch to fuel oil if gas service is interrupted, and there is an electrode boiler kept in reserve for extreme cold events or fuel emergencies. The steam plant efficiency improved significantly after March 2015 when the 1960's-era coal boiler was decommissioned.
Chilled Water
The main Athens campus is divided into six discrete chilled water districts or "loops." In each district, buildings are connected to each other with insulated underground pipes that allow them to share cooling equipment. Chilled water is used to cool and dehumidify air that is circulated inside buildings using large fans and ducts. One advantage of sharing equipment in this way is that it is more effective to maintain fewer, larger chillers than a large number of individual air conditioners. It also allows the chillers to be staged to run at optimum efficiency.
As of 2016, UGA has two district energy plants (DEPs). DEP-1 is located at the corner of Baxter and Newton Streets and is connected to the central chilled water district that serves the Tate Center, Miller Learning Center, Bolton Dining Commons, Brumby and Russell residence halls, the Business Learning Community buildings, and others. DEP-2 is located next to the steam plant and serves Science Hill and the south campus chilled water district that includes Davison Life Sciences, Miller Plant Sciences, Aderhold, Forestry, Ecology, Snelling, the Georgia Center, and others in the area. These DEPs were built to allow older, less efficient chillers in some of the buildings to be decommissioned, replacing their capacity with new, state-of-the-art chillers in a central facility. This strategy allows for additional conservation measures beyond just chiller efficiency. DEP-1 uses waste heat from the chillers to generate hot water for nearby buildings, and make-up water for the cooling tower is supplemented by harvested rainwater.
Renewable Energy
1 MW Solar Tracking Demonstration Project
UGA partnered with Georgia Power to install a 1-megawatt solar array in an underutilized agricultural field next to the UGA Club Sports Complex on South Milledge Avenue. The project includes various technologies for tracking patterns of the sun to maximize the output of electricity, providing research opportunities for students in the UGA College of Engineering and others. Construction started in 2015 and the site went active in early 2016. The system generates over 1,600 megawatt-hours of electricity per year. Georgia Power owns the equipment and the energy it produces, while UGA keeps the solar renewable energy credits (SRECs) associated with the production.
Jackson Street Building 18 kW Solar Array
This 18-kilowatt solar electric system was installed in 2012 on the roof of the Jackson Street Building, which houses programs of the College of Environment & Design. Seventy-two MAGE Powertec 240 photovoltaic panels harness energy from the sun to help power lights, mechanical systems and plug loads inside the Jackson Street Building. Overall the project generates about 30 megawatt-hours of electricity annually.
Energy Primer
This is a two-page summary of how UGA procures and uses energy for its campus operations.