Buildings and Grounds
---
A living laboratory and sustainable learning environment
Considered one of the most beautiful University campuses in the US, University of Georigia facilities are designed, constructed, and managed to create the optimal learning environment, steward natural and physical resources, and promote long-term sustainability. Campus facilities provide opportunities to research, practice, and continually refine principles of sustainability.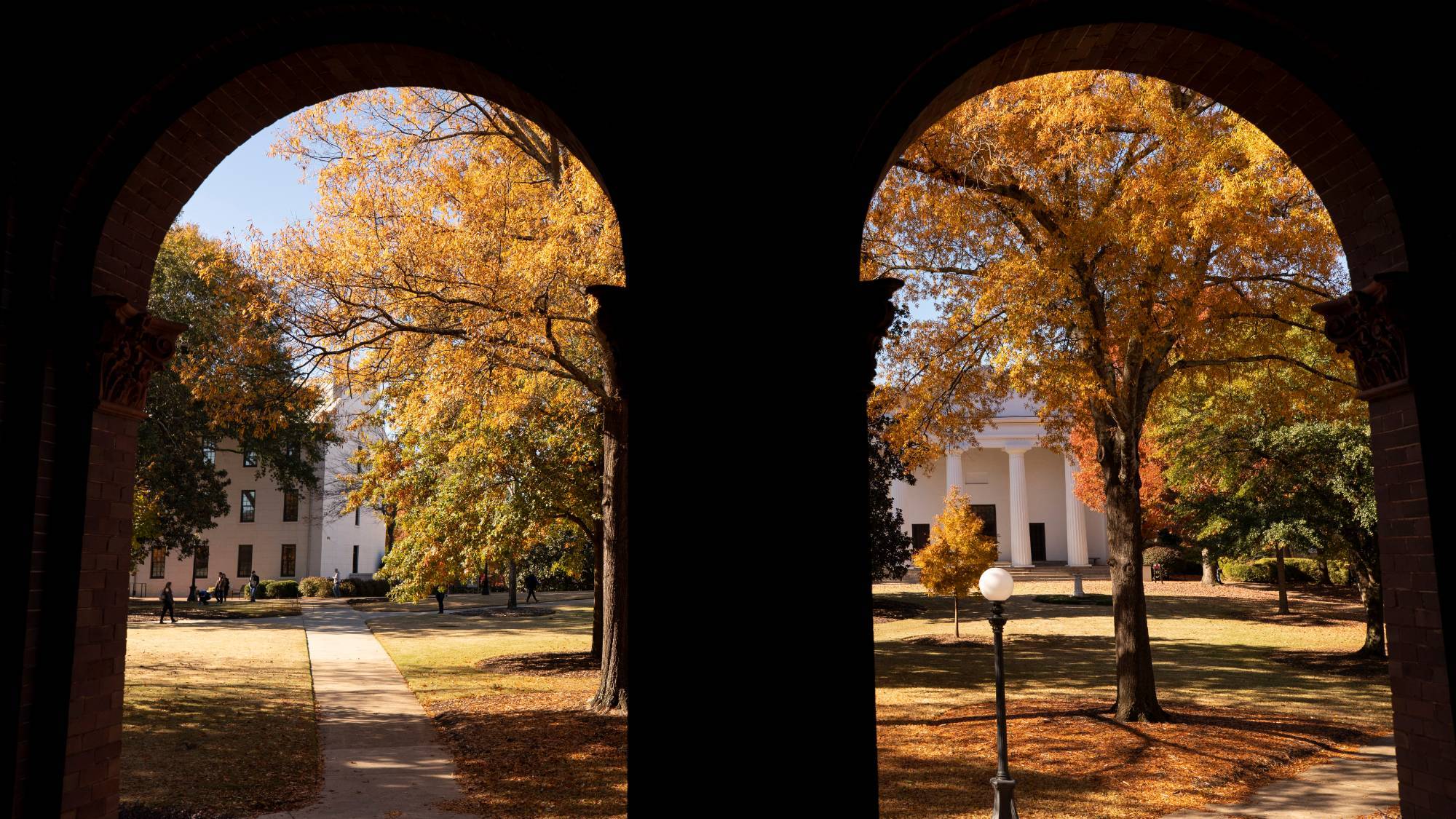 Facilities Project Initiation Form
Interested in pursuing sustainable design improvements for your facility? The Facilities Project Initiation Form (FPIF) and supporting policies are available here under the "Project Initiation" section.
Buildings
New and renovated campus buildings are designed and constructed for a lifespan of fifty years or more with a priority of minimum life cycle costs. UGA Design and Construction Standards (including Section 018100 - Facility Performance Requirements (PDF)) and the Georgia Peach Program seek to optimize energy performance, conserve water, prioritize local materials, protect natural resources, and improve environmental quality.
In addition to meeting these state guidelines and prior to GA HB 255 in 2015, UGA completed five LEED Certified buildings:
Tate Expansion (Gold)
Residence Hall Building 1516 (Gold)
Georgia Museum of Art Addition (Gold)
Special Collections Library (Gold)
Jackson Street Building (Gold)
Learn more about UGA's Jackson Street Building; click on icons at the bottom of the "EcoScreen" to learn about the building's Green Features, Solar Power, Daylight Harvesting, Chilled Beams, and more!
To ensure stewardship of existing historic structures, UGA completed a Historic Preservation Master Plan in 2018, establishing an innovative and powerful tool to integrate historic preservation and archaeology into the early facilities planning stages. The Board of Regents of the University System of Georgia is the largest holder of historic resources among state entities, and UGA is the largest holder among USG units with more than 730 historic buildings and 55 cultural landscapes across 11 Georgia counties.
In 2006, UGA implemented an award-winning, Cleaning Industry Management Standard (CIMS) Certified Green Cleaning Program. The program reduced the previously used 350 cleaning chemicals to only 3 non-toxic products, reducing waste and creating healthier interior environments. In 2011, UGA became the first university in the US to receive CIMS Green Building Certification. All resident instruction facilities at UGA continue to be managed using safe, effective procedures and certified green cleaning products.
Standards for minor renovations of campus facilities include LED lighting, low-flow plumbing fixtures, zero-VOC paint, and Georgia-based carpet squares made with recycled materials.
Grounds
UGA site planning principles prioritize pedestrian safety, wayfinding, campus iconography, and sense of place while protecting and enhancing natural resources. Through redevelopment of previously paved surfaces, more than 60 acres of new green spaces create an increasingly connected campus environment. Native plants from the Georgia Piedmont and southeastern US are used extensively and exotic invasive plants are actively removed. Georgia brick and granite rubble help to create a consistent palette of local hardscape materials, and various types of porous paving reduce runoff and encourage infiltration and cleansing of rainwater. Other restorative stormwater management strategies prioritize vegetative controls including multiple intensive and extensive green roofs and more than 70 bioretention areas, or rain gardens, installed throughout campus. Efficient irrigation systems with smart controls minimize water use while maintaining a verdant campus landscape. All landscape leaf and limb debris is collected and composted at the UGA Bioconversion Center.
In 2000, the entire UGA main campus was designated as an Arboretum, and UGA has been recognized by the Arbor Day Foundation as a Tree Campus USA each year since 2010 due to the care and protection of more than 10,000 managed campus trees. In 2020, the Campus Pollinator Project and Campus Pollinator sub-committee was created as part of the Campus Arboretum Committee to enhance pollinator habitat and maintain Bee Campus USA certification.
UGA also seeks to minimize the use of potentially harmful fertilizers, herbicides, and insecticides across the more than 700-acre campus through appropriate plantings, integrated pest management, and spot treatment versus blanket applications whenever feasible. Seasonal color beds are managed organically to minimize unwanted weeds and pests while maintaining an environment for beneficial insects.