Campus Sustainability Grants
---

Congratulations to the 2022 Campus Sustainability Grant Winners!
Campus Kitchen on Wheels
Submitted by Tea White, undergraduate Food Science major, under the direction of Andie Bisceglia, to address Un Sustainable Development Goals 2 & 3 by improving access to wholesome food for community members experiencing food insecurity. Other project partners include local restaurants and community organizations, Athens-Clarke County schools, and student collaborators Brynna Allen, Trushar Patel, and Jacq Sauceda.
Cargo Containers Fighting Food Insecurity
Submitted by Jonathan Pulliam, an Environmental Resource Science major, under the direction of JoHannah Biang, to convert cargo containers at UGArden into walk-in coolers to store locally harvested and donated fresh food for distribution to food-insecure families. Project partners include UGarden, Campus Kitchen, Concrete Jungle, and student collaborators Erica Head and Travis Williams.
Youth Space Community Art Garden
Submitted by Lisa Novak, a doctoral candidate in Art Education, under the direction of Dr. Katie Geha, to establish a community-oriented gardening project and living laboratory for youth-led arts programming exploring art, sustainability, ecology, and urban gardening. Project partners include Athenaeum, Athens Land Trust, and local youth in Parkview Homes.
STEAM in the Kitchen: Development of a Virtual Science-Art Nutrition Cooking Series for Low Income Families in Northeast Georgia
Submitted by Josephine Shieh, Nutritional Sciences PhD student, under the direction of Dr. Caree Cotwright, to address childhood obesity through nutrition education and healthy eating practices. Project partners include student collaborators Kassidy Sharpe and Chisom Okoli, the UGA Childhood Obesity Prevention Laboratory, and local, state, and federal organizations such as the Boys and Girls Club, Clarke County School District Office of Early Learning, the UGA McPhaul Child Development Lab, WIC, SNAP-Ed, the Athens Clarke Community Council of Aging, Easter Seals North Georgia Head Start centers, and the Food Bank of Northeast Georgia.
Close the Loop
Submitted by Caroline Solomon, Environmental Economics and Russian double-major, under the direction of Dr. Laura McAndrews, to combat fast fashion and reduce clothing waste through sewing repair workshops. Project partners include Claire Wadzinski, the Swap Shop, Fair Fashion UGA, and other student organizations.
Fighting Systemic Racism, Classism, and Individualism in Sustainable Fashion Education
Submitted by Sha'Mira Covington, PhD student in Polymer, Fiber & Textile Science and International Marketing, under the direction of Dr. Laura McAndrews. Project partners include Sara Idacavage, the Institute for African Studies, Fair Fashion, and BOLD UGA.
Students' Erosion Eradication Project
Submitted by Anish Subedi, a Crop and Soil Sciences PhD student, under the direction of Dr. Dory Franklin, to increase stormwater infiltration and reduce localized flooding at the Miller Plant Sciences building. Project partners include Victoria Leigh Clendenning and Rachel Smith, as well as an array of campus and community organizations such as the USDA Natural Resources Conservation Service and the GA Soil and Water Conservation Society.
Fire & Flood: Queer Resilience in the era of Climate Change
Submitted by Vanessa Raditz, PhD student in Geography, under the direction of Dr. Cecilia Herles, to develop a documentary film about intersectional climate vulnerability and resilience. Project partners include an array of UGA departments and student organizations such as Sunrise Movement UGA Hub.
Bee Beautiful: Replacing Invasive Landscaping Plants on UGA's Campus with Native Plants
Submitted by Elizabeth Esser, undergraduate Ecology and Genetics major, under the direction of Dr. Eric Macdonald, to reduce toxic vegetation for migratory birds and increase native habitat and food sources for pollinators. Project partners include the State Botanical Garden of Georgia, College of Environment + Design, Facilities Management Division, and student collaborator Claudia White.
Watersheds/wayfinding
Submitted by Annie Simpson, Studio Art graduate student, under the direction of Dr. James Enos, to construct canoes using discarded UGA vinyl banners and film an excursion from the Madison County Biomass Plant to Watson Mill State Park. Project partners include Meredith Emery, Luka Carter, Lamar Dodd School of Art, College of Environment + Design, and the Willson Center for Humanities and Arts.
Full Circle: Minimization & Diversion of Waste in UGA Research Laboratories
Submitted by Lily Birx, Chemistry PhD student, under the direction of Star Scott, to divert plastic waste from research labs at UGA. Project partners include UGA Green Labs, Facilities Management Division, and Athens-Clarke County Solid Waste.
The 2021-22 Campus Sustainability Grant cycle is closed.
Pre-proposals are accepted beginning October 1 and grants are awarded on Fall Reading Day each academic year.
Learning through innovation and action
Drawn from the Student Green Fee, grants up to $5,000 are available to current UGA students who wish to initiate projects that advance sustainability through education, research, service, and campus operations. Successful projects will address UGA's strategic priorities and integrate social, environmental, and economic solutions to help ensure that all people can thrive, both now and in the future. Grants are awarded based on merit, positive impact, implementation feasibility, and available funding.
Special consideration will be given to interdisciplinary projects that advance equity and incorporate the arts.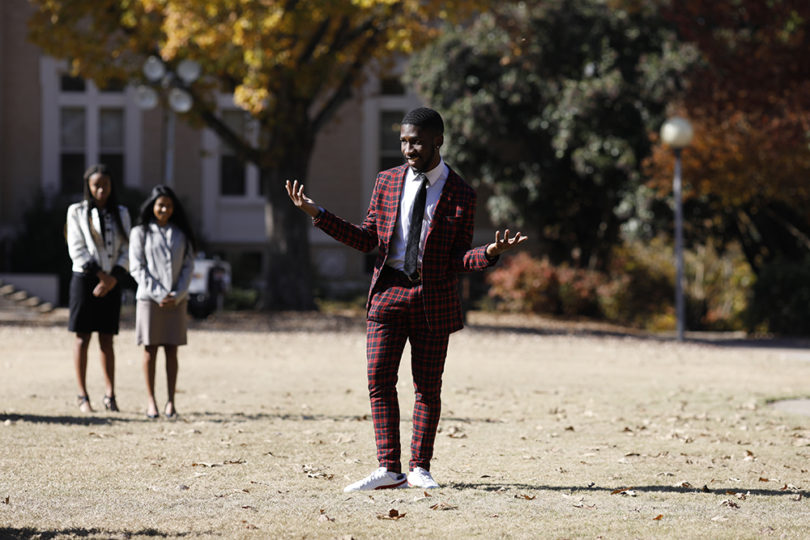 Sustainability Grant Spotlights
Previous Year Grant Winners