Lake Herrick
---
A natural area respite on campus
Situated within Oconee Forest Park, Lake Herrick provides opportunites for experiential learning, research, and recreation on the University of Georgia Campus. This valued amenity is managed by the Warnell School of Forestry and Natural Resources and is open for the respectful enjoyment of all visitors. If you have questions or observations to share regarding these natural areas, please contact the Oconee Forest Park manager.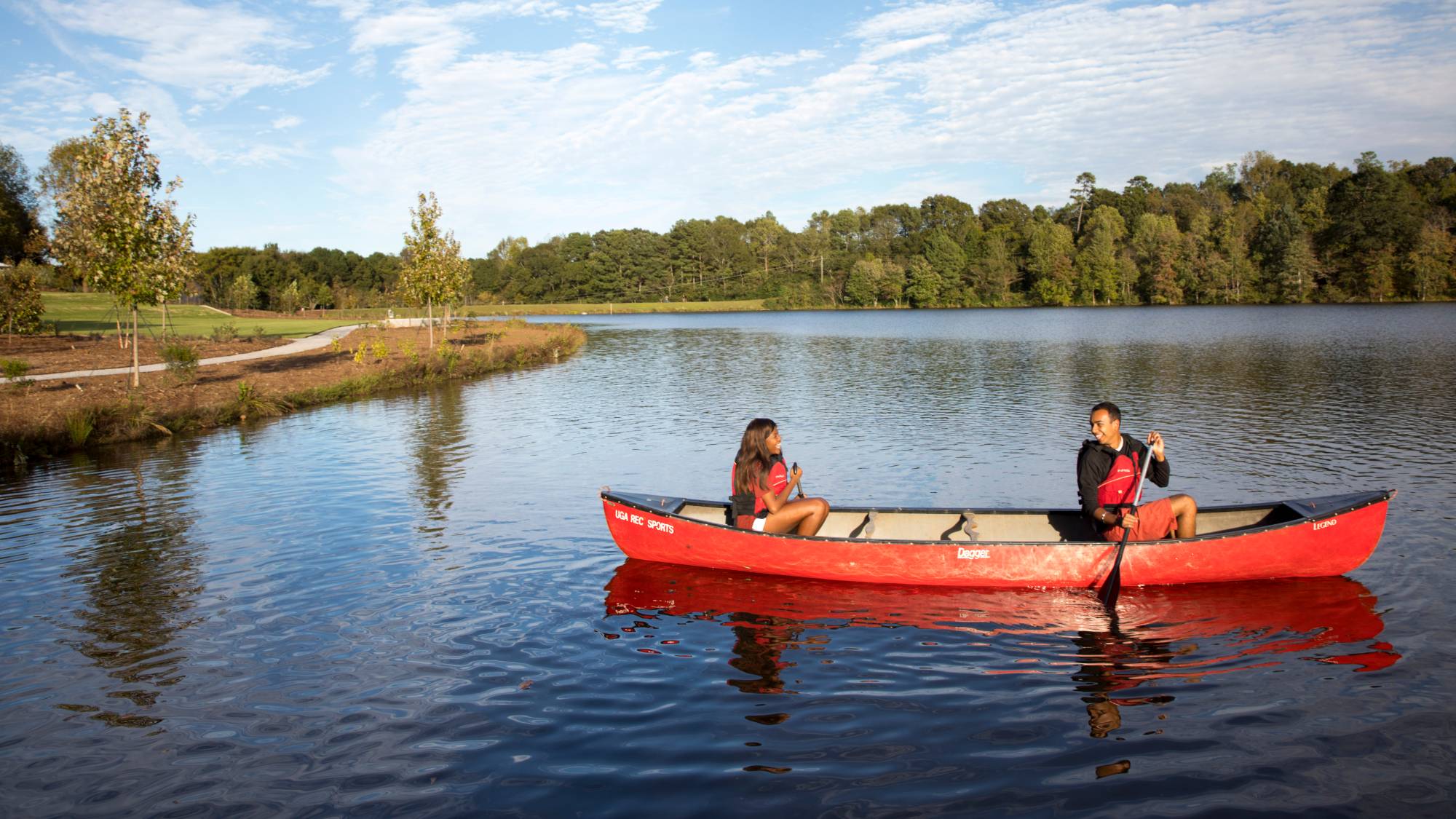 About Lake Herrick
Named for Allyn M. Herrick, former Dean of the School of Forest Resources, Lake Herrick was commissioned by the School in 1982 as a recreational resource for Athens and UGA. After 20 years of use, Lake Herrick was closed to swimming and boating in 2002. In 2017 work began to enhance Lake Herrick as a public amenity within Oconee Forest Park and provide a respite amidst the hustle and bustle of daily life, and by October 2018 the lake and nearby facilities were re-dedicated for public use. Oconee Forest Park and Lake Herrick remain under the management of the Warnell School of Forestry and Natural Resources.
Restoration Program
An interdisciplinary team of students, faculty, staff and community members—led by the Warnell School of Forestry and Natural Resources, Odum School of Ecology River Basin Center, and the Office of Sustainability—developed a phased approach to enhance water quality and expand low-impact recreational opportunities in and around the lake.

Phase 1
Phase 1 focused on improving water quality within the watershed by revitalizing the upper pond in Oconee Forest Park, which acts as a stilling basin to prevent sediment and pollutants from passing downstream to Lake Herrick and the North Oconee River. This phase included removal of more than 50 years of accumulated sediment, replacing invasive plant materials with native flora, and installing stormwater control measures, among other improvements. Phase 1 began in the fall of 2017 and was completed in summer 2018.

Phase 2
Phase 2 provided ecological restoration and expanded recreational opportunities at Lake Herrick. Improvements along the shoreline included a lakeside lawn for passive recreation and events; an accessible dock and at-grade launch for carry-in, non-motorized boats; a lakeside foot trail; and native vegetation. Phase 2 was dedicated for public use in October 2018. In addition to the landscape improvements, Lake Herrick Pavilion was renovated to support experiential learning and community events, featuring a covered pavilion, indoor meeting room, and catering kitchen available for use by the UGA and local community.
Funding
Private support is playing a critical role in advancing the watershed cleanup and lakefront renovation. The Southern Company Charitable Foundation and the Riverview Foundation generously contributed funding toward this effort. The Office of the President—as the lead campus partner on the project—allocated private resources, as well as additional financial and staff resources from the University of Georgia, including ongoing operational support from Facilities Management Division, Recreational Sports, and the Warnell School of Forestry and Natural Resources.