Farm to Campus Markets
---
Local, sustainable, accessible food for a healthy campus community.
Farm to Campus Markets are student-run in partnership with local farmers. The primary purpose is to enhance health outcomes for UGA students, faculty, staff, and visitors through increased access to nutritious local produce. In addition to wholesome food, Farm to Campus Markets provide opportunities to build connections with others, engage in interactive art, learn about sustainability-focused programs and organizations, and enjoy time outdoors.
Visit the Market!
Most Wednesdays, Noon-3PM, at the Tate Student Center. Fresh seasonal produce and local art. UGA Paw Points accepted. Paid parking is available in the Tate Center Deck.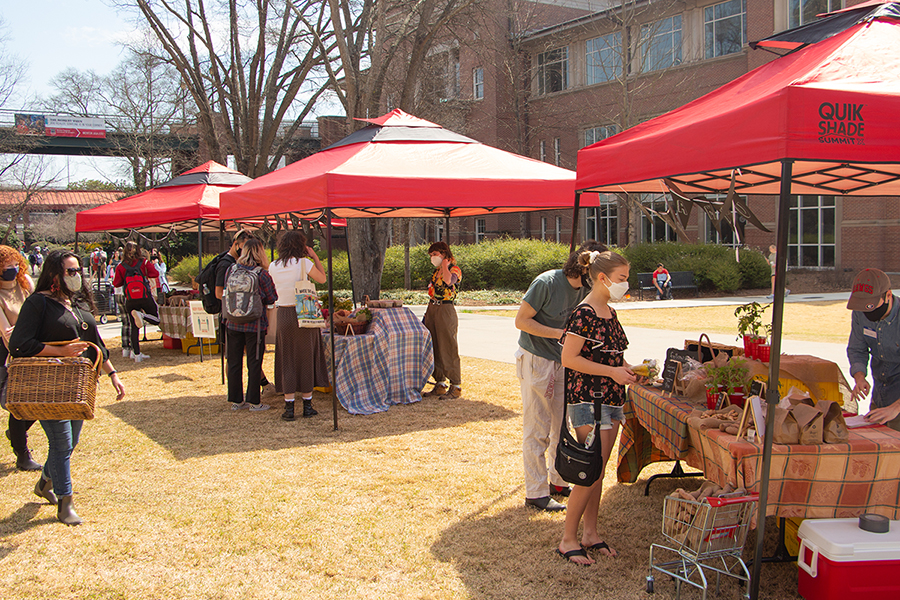 Enhancing health and building community
Established during spring 2021 by the UGA student organization Farmers Market Friends with funding from a Campus Sustainability Grant, Farm to Campus Markets provide wholesome and accessible fresh produce to increase health outcomes among the campus community. Art, music, and personal connections help feed the spirit as well as the body. Watch a video about the students and passion behind Farm to Campus Markets.
Co-Sponsors
The Farm to Campus Market is a community event, supported by several valued partners.