Civic Engagement: A closer look at opportunities in Athens
Lara Strydom
Wednesday, December 9, 2020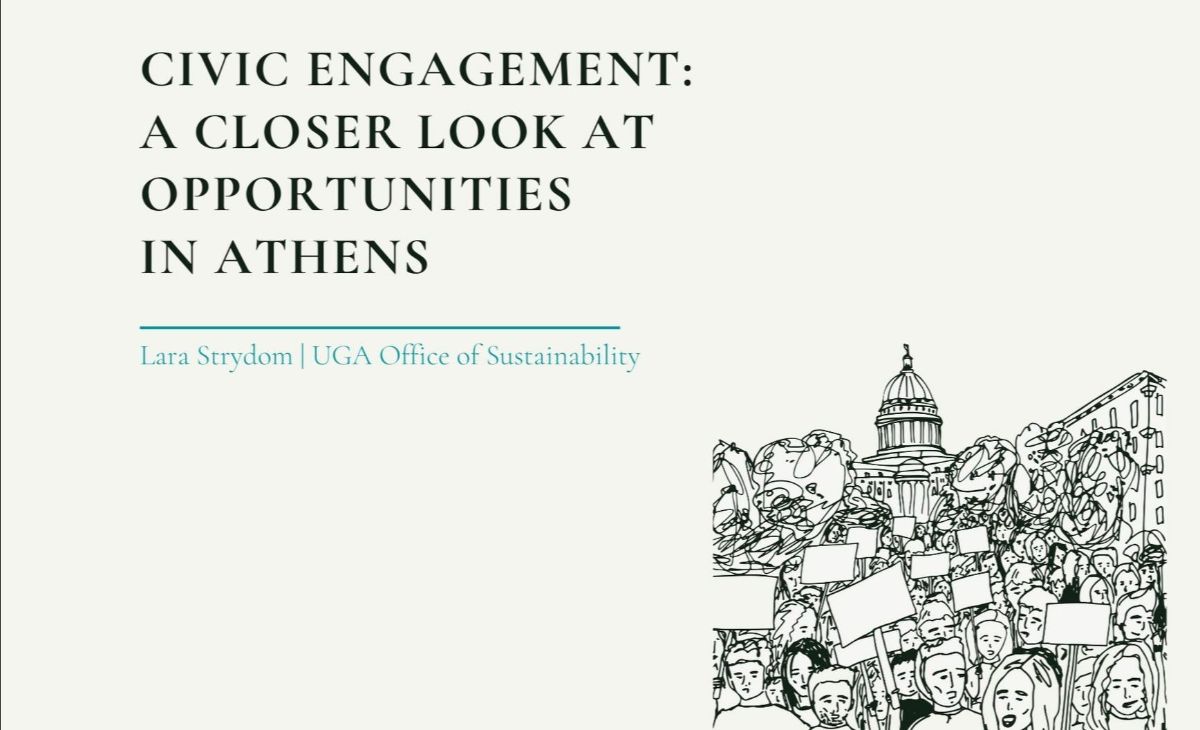 Among other changes, 2020 has ushered an increase in civic engagement. With recent elections and the upcoming Georgia runoff election on January 5th, many Georgians are more politically engaged than ever before.
But many might be wondering: What's next? What does it look like to be an engaged citizen in pursuit of a more sustainable and equitable community beyond election season?
Thinking Holistically, Acting Locally
"There is no separating our environmental problems from the way we are organizing society. Everything that is an environmental problem is also a social problem and everything that is a social problem is also an environmental problem," said Dr. Gregory Thaler, UGA International Affairs professor with a focus in political ecology.
Thaler explained that sustainability and equity go hand-in-hand, as marginalized communities are generally more vulnerable to the negative effects of environmental issues like climate change and air pollution.
"We see that urban neighborhoods that are predominately Black often have less greenspace and will have higher temperatures — which is especially a concern with high heat days that have increased due to climate change," Thaler said. "We also see that toxic waste facilities are more likely to be sited in minority neighborhoods. This can lead to higher rates of pollution exposure which leads to increased health issues."
Thaler said civic engagement on the local level can result in more immediate and real improvements in the quality of life in local communities. According to Thaler, engagement can take a lot of different forms, from participating in community service to organizing events and activities that raise awareness.
"There is not necessarily one right tactic that's going to result in change. Movements are stronger when diverse groups are working together and using diverse tactics," Thaler said.
For students who are interested in advocating for sustainability causes in Athens, Thaler emphasized the urgency of addressing food insecurity in Athens. To address this issue, Thaler recommended that students consider serving with organizations like UGArden, Campus Kitchen, and Athens Land Trust.
"It's important to build connections between on and off campus groups that work on these issues," Thaler said.
Thaler suggested that individuals passionate about reducing fossil fuel use and increasing renewable energy could look into the 100% Athens Renewable Energy Initiative — a coalition dedicated to the just and equitable transition to renewable energy. He also mentioned the importance of protecting and preserving our local ecosystems, and partnering with groups like Upper Oconee Watershed Network and Sandy Creek Nature Center.
Stories of Engagement
"We put ourselves in a box of what we're supposed to be and what we can do. We really limit ourselves sometimes," said Mokah Jasmine Johnson, co-founder of the Athens Anti-Discrimination Movement.
Johnson and her husband formed AADM in 2016 as a response to an Athens bar using a racial slur in the title of one of its drinks. With dedicated community involvement - including UGA students, faculty and alumni - AADM has created several programs focused on racial and social justice in Athens such as the End School to Prison Pipeline Program that promotes education among at-risk students.
"Being able to trust and listen to my inner voice is what motivated me. If I didn't listen to that voice that said, 'Enough is enough,' then I would never be doing this," Johnson said. "If there is a cause you believe in, just jump in and fight for it. There's no perfect way. Yes, we have strategy and yes we make plans, but in the end of the day, you just have to go for it."
Listening to her inner voice is exactly what motivated UGA entertainment and media studies student Camilla Sims to take peaceful action in Athens this summer. Her engagement helped contribute to a broader movement which ultimately resulted in removal of a downtown Confederate monument — a cause in which Johnson and her husband were also involved.
"I didn't go out there with the plan to be an organizer. I went out as just one person, not expecting anyone to join," Sims said. "My rules were: Don't argue with anyone, don't react to anyone who does something to you, don't spread information that hasn't been verified, and if you have any questions, ask them."
As more and more people joined Sims, she realized how important it was for her to be inclusive of all demographics in the organizing process. She specifically focused on including the homeless community since lower-income communities are often the most vulnerable to institutions of systemic racism.
Sims and other organizers would use checklists at the protests to ask other participants about resources they were in need of. They would then see if there was anyone at the protest who could help provide for those needs.
"We were able to allocate a lot of resources to the people who needed them the most. That was just extremely rewarding," Sims said.
Over the course of 100 days, hundreds of people of all backgrounds and identities joined Sims in her effort to increase awareness of racial inequities. On June 25, 2020, Athens mayor and commission approved the removal of the monument, and it was officially removed from the downtown intersection on Aug. 10, 2020.
"I learned that if you are unafraid and adamantly and passionately stand up for what you believe in, then more people will join you eventually," Sims said.
What's next?
Johnson and Sims are just two examples of the countless number of ordinary people who create a more just and equitable community through involvement in the issues they believe in.
UGA's Carl Vinson Institute of Government offers invaluable experiential learning opportunities for students interested in pursuing a career in public service through state and local government. The Athens-Clarke County Citizens Government Academy provides opportunities for citizens to gain insight into the function and activities of local government.
For individuals looking to better understand and get involved in the Athens community, the Envision Athens - Citizen Engagement Guide is a great place to start. This community-wide initiative seeks to develop an inclusive vision for the future of Athens by identifying and implementing visionary yet achievable strategies for community and economic development.
"I only get to exist as this person one time, and I think it would be foolish for me to not stand up for what I believe in while I'm here," Sims said. "You're confident enough, and you're passionate enough. You're strong enough to take a stand even when other people might be laughing at you and even when other people may doubt you."