Project Red: Changing the menstruation conversation
Lara Strydom
Monday, March 22, 2021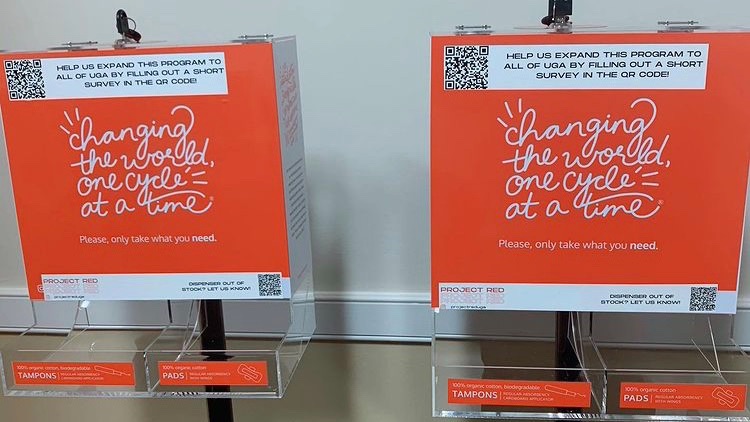 Project Red and the Period Project at UGA
Period Project at UGA students are working to eliminate the stigma surrounding menstruating and to elevate the needs of everyone who menstruates. Their pilot program, with funding from UGA's Campus Sustainability Grants program, is providing free biodegradable period products in two on-campus all-gender restrooms — with one dispenser on the second floor of Tate and the other on the third floor of Boyd.
The program was initiated by the Period Project at UGA — an organization that is a part of the nationwide movement to end period poverty. In June 2020, students from the organization conducted a survey with almost 2,000 UGA students to investigate how many people were having trouble accessing period products. They found that about one-third of respondents said accessing period products has previously been or is currently a financial burden. In addition, about 70% of respondents said that the pandemic had negatively affected their financial situation.
Effects of Period Poverty
"What we know from other countries is that lack of access to menstrual products affects school participation, school attendance, focus on homework, and participation in extracurricular activities. It also affects self esteem," Dr. Andrea Swartzendruber, faculty advisor for Project Red, said.
Over half of survey respondents said costs and access to period products have affected their academic life. Swartzendruber noted that historically, menstruating has been a taboo topic surrounded by negative stigma. This stigma can make it difficult for people to express their needs for menstrual products, and limit the conversations that raise awareness about period poverty.
Changing the menstruation conversation
"I personally have had a lot of conversations since the dispensers have gone up, especially with people who don't menstruate. They're interested in why this wasn't accessible before," Maeve Breathnach, Project Red collaborator said. "I think providing them [menstrual products] for free reframes it so people will see it as a right, just like getting toilet paper — just a basic need being filled."
In fact, Georgia's tax laws define menstrual products as a luxury, rather than a necessity. This makes it so that menstrual products are not exempt from sales tax — as opposed to other items and services that are tax-exempt, like tattoos and piercings.
"It becomes a political conversation. And I think we want to kind of step outside of that and say that this is a rights issue," Mahathi Mula, Project Red collaborator, said.
The Project Red initiative is changing the menstruation conversation in more ways than one. By intentionally including the dispensers in all-gender restrooms, the leaders of the initiative recognize that not all people who menstruate are cisgender women.
"I think the language of menstrual equity and access to period products has always been really colored by gender. We're trying to move away from that and recognize that not everyone who menstruates is a woman, and vice versa," Jaaie Varshney, Project Red collaborator, said.
On-campus solutions
Throughout this semester, the Project Red team will be collecting data on student engagement with the dispensers. The team will then share that data with the university in hopes that UGA will begin to provide free menstrual products on campus.
"We hope that providing these products will open up conversations. And that this could then open up conversation with [campus decisionmakers] to where they understand why this is necessary," Mula said.
To find out more about Project Red and the Period Project, follow @projectreduga and @ugaperiod.