A Year in Review: Reflecting on lessons we've learned
Sherry Liang
Monday, May 3, 2021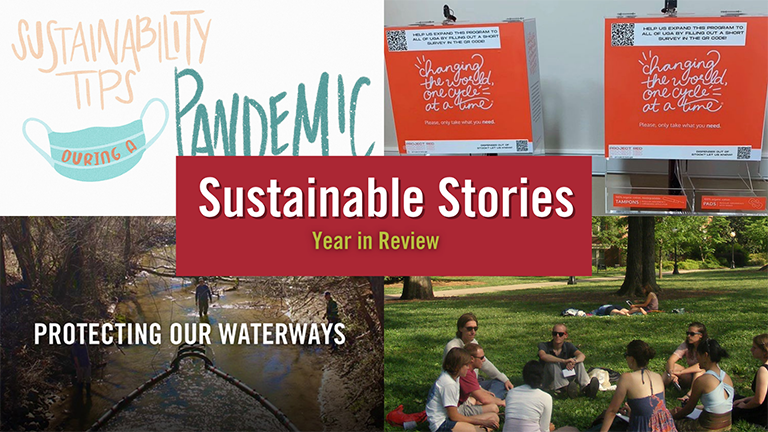 A year in review: Reflecting on the lessons we've learned through our sustainability stories
This academic year has taught us lessons of empathy and community — when we innovated sustainability to accommodate our changing environments. Lessons of accessibility, equity and collaboration resonated across our newsletter themes each month.
We've published articles from mental health to reducing waste, featuring organizations that work on issues from expanding scholarship access to bringing the farmers market to campus. Here are the lessons we're taking from an article each month over the last year.
In September, as we were adjusting to this back-to-school-pandemic reality, trash bins were overflowing with single-use plastic. How can we stay safe and healthy while also protecting the wellbeing of our planet? Investing in reusable masks and learning how to properly separate and dispose of trash were some of the key takeaways from our expert sources.

In October, the Zoom fatigue and changing seasons took a toll on mental health. Weather and nature, as it happens, can have a significant impact on our mood. UGA Weather and Climate Psychologist Dr. Alan Stewart taught us that a little natural light and time with nature can go a long way. More importantly, he encouraged seeking mental health help when needed.
In November, ahead of Thanksgiving, we gave thanks to the land our office and university were founded on. People of the Muscogee Creek and Cherokee Nations were forced off Athens land, which many of us take for granted when we go to class each day.
In December, on the heels of a historic presidential election, we gave tips on how to sustain civic engagement, especially during election offseasons. While affecting change on a national or even state level can seem intimidating, our sources said finding ways to engage with local communities can often lead to the most effective and immediate forms of progress.
In January, we commemorated the 60th anniversary of desegregation at the University of Georgia. Charlayne Hunter-Gault and Hamilton Holmes' journey on campus continues to inspire our office's goal of promoting inclusivity, equity and justice.
In February, we learned the significance of local sustainability efforts — especially when it comes to an issue as connected as our waterways. The trash trap from Stormwater Systems was installed and has helped collect litter in Trail Creek to prevent it from reaching larger waterways.
In March, we checked in with two recipients of our campus sustainability grants: Project Red and Farmers Market Friends, both with the mission of increasing accessibility on campus. Project Red has provided free period products to the UGA community, while Farmers Market Friends has made itself a mainstay for the UGA community on Wednesdays in front of the MLC.
In April, we went back to our roots for Earth Week. In 2008, a coalition of students, bound by their passion for sustainability, pushed for the creation of the Office of Sustainability. Today, students and faculty continue to drive initiatives to make UGA a greener, cleaner, more equitable place for all.